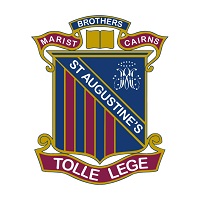 St Augustine's College
Cairns, Queensland
學校簡介 SCHOOL PROFILE
城市/州份
City/State:
Cairns
Queensland
創校年份
Year established:
1930
學校類別
Coeducational/Boys/Girls:
男校
Boy's School
寄宿學校/家庭寄宿/兩者均有
Boarding/Homestay/Both:
寄宿學校
Boarding
英語強化課程
ELICOS Program:
沒有
No
其他英語課程
Other English Language
Programs:
沒有
No
學校課程
Certificate of Education / IB:
QCE
學生人數(7年級至12年級)
Total enrolment numbers


(Years 7-12):

770
海外學生人數 (500類簽證)
Number of current
international students:
4
澳洲教育評審測驗(AEAS)
AEAS testing required:
需要
Yes
學費(每年澳幣)
Annual Tuition Fees:
7-12年级: $28,197-$29,652澳幣/
每年
Yr7-12: AUD$28,197-$29,652p.a.
寄宿費 (每年澳幣)
Accommodation Fees:
校內住宿費: $23,895澳幣/每年
Boarding: AUD$23,895p.a.
CRICOS 號碼
CRICOS Number:
00509D
|  學校影片 | SCHOOL VIDEO PRESENTATION | |
| --- | --- |
St Augustine's College (Cairns) 由1930年起專注男子教育,為第7-12年級的日校及寄宿生提供優質教育。座落於昆士蘭的北部海岸,全年氣候溫和,鄰近原始雨林及著名的大堡礁。
我們立志成為一個創新而具吸引力的學習群體,培養追求個人發展和學業卓越的平衡發展。我們尊重、了解並讚揚每一位學生。
St Augustine's College致力於培養男生的智力、體能、情緒、社交和靈性各層面的發展。我們嚴謹的學術課程旨在挑戰他們的智力,幫助他們獲取知識及必需的技能,同時也為他們的校外生活做好準備。
學校提供廣泛多元化的運動、文化、學會和服務活動,讓每位學生都能參與、成長、接受挑戰,培養個人的創造力和成功。
St Augustine's College (Cairns) has been specialising in Boys Education since 1930 and provides a quality education for day and boarding students in Years 7 to 12. Situated on Queensland's far north coast, the climate is warm year-round, and we are located close to ancient rainforests and the world famous Great Barrier Reef.
We aspire to be an innovative, engaging learning community that cultivates the development of balanced individuals who strive for personal and academic excellence.  All students are respected, known and celebrated.
St Augustine's College seeks to educate the intellectual, physical, emotional, social and spiritual dimensions of each boy. Our rigorous academic program aims to challenge their intellect and help them to gain the knowledge and develop the skills essential for academic success as well as life beyond school.
The College offers a broad range of sports, cultural, club and service activities, so that every boy can participate, grow, be challenged and foster their personal creativity and success.
參展學校 | Participating Schools