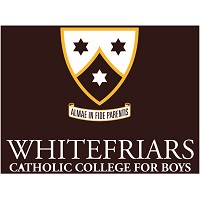 Whitefriars College, Victoria
SCHOOL PROFILE 學校簡介
城市/州份
City/State:
Melbourne
Victoria
創校年份
Year established:
1961
學校類別
Coeducational/Boys/Girls:
男校
Boys
寄宿學校/家庭寄宿/兩者均有
Boarding/Homestay/Both:
寄宿家庭
Homestay
英語強化課程
ELICOS Program:
沒有
No
其他英語課程
Other English Language
Programs:
有
Yes
學校課程
Certificate of Education / IB:
VCE
學生人數(7年級至12年級)
Total enrolment numbers


(Years 7-12):

1200
海外學生人數 (500類簽證)
Number of current
international students:
35
澳洲教育評審測驗(AEAS)
AEAS testing required:
需要
Yes
學費(每年澳幣)
Annual Tuition Fees:
7-12年级: $27,950澳幣/每年
Yr7-12: AUD$27,950p.a.
寄宿費 (每年澳幣)
Accommodation Fees:
寄宿家庭費用: $17,050澳幣/每年
Homestay: AUD$17,050p.a.
CRICOS 號碼
CRICOS Number:
01680G
| SCHOOL VIDEO PRESENTATION – 學校影片 | |
| --- | --- |
The Whitefriars International Student Program is built on providing international students from across the globe with the best possible learning experience to enhance their learning capacity and extend student potential, underpinned by exceptional pastoral care and wellbeing support in a safe and nurturing environment.
International students start with an on-campus orientation program, then either enter our Bridging Intensive English Program or enter straight into mainstream classes, and are provided with every opportunity to succeed academically whilst being supported with integration into the wider school community by a Wellbeing Program across all year levels.
International students are supported 24/7 and access an all-inclusive curriculum that enhances development of a wide range of talents and skills, while participating in an extensive array of extra-curricular activities.
The school has a strong STEAM program designed to extend student learning across an array of subjects, supported by a whole school notebook program. Students have a wide variety of subjects to choose from, study in small classes, and will be supported by course advisors when choosing their University pathways.
Whitefriars College的國際學生課程專注為全球的國際學生提供最佳的學習體驗,以提高他們的學習能力並擴大每一位學生的內在潛力,並在安全的環境下提供最貼心細膩的關懷和支援。
學校會安排所有國際學生參與一個迎新活動,接著便會按學生的英語能力及學術成績去編排課程。學校會安排有需要學生先入讀英語強化課程,而英語程度達標的學生則會安排直接進入正規學術課程。這樣的編排務求讓不同能力的學生獲得最合適的學習環境及支援,從而可以更快速地提升。本校採用小班教學,更設有專門導師為學生提供1對1的升學及就業規劃輔導。
此外,學校亦會為學生提供全天候的照顧,並且設有多元化的課外活動供學生參與。同時,透過全面的課程及卓越的 STEM教育,從中發掘出每一位學生的內在潛能。
參展學校 – Schools participating in the Online Fair