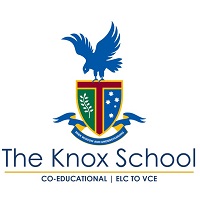 The Knox School, Victoria
SCHOOL PROFILE 學校簡介
城市/州份
City/State:
Melbourne
Victoria
創校年份
Year established:
1982
學校類別
Coeducational/Boys/Girls:
男女校
Coeducational
寄宿學校/家庭寄宿/兩者均有
Boarding/Homestay/Both:
寄宿家庭
Homestay
英語強化課程
ELICOS Program:
有
Yes
其他英語課程
Other English Language
Programs:
有
Yes
學校課程
Certificate of Education / IB:
VCE
學生人數(7年級至12年級)
Total enrolment numbers


(Years 7-12):

377
海外學生人數 (500類簽證)
Number of current
international students:
42
澳洲教育評審測驗(AEAS)
AEAS testing required:
需要
Yes
學費(每年澳幣)
Annual Tuition Fees:
7-12年级: $25,450-$37,442澳幣/
每年
Yr7-12: AUD$25,450-$37,442p.a.
寄宿費 (每年澳幣)
Accommodation Fees:
寄宿家庭費用: $350澳幣/每週
Homestay: AUD$350 per week
CRICOS 號碼
CRICOS Number:
00151G
| SCHOOL VIDEO PRESENTATION – 學校影片 | |
| --- | --- |
The Knox School is an independent, co-educational School in the beautiful and leafy eastern suburbs of Melbourne. We are only 30 minutes from the heart of Australia's second largest city, Melbourne.
For nearly 4 decades, we have welcomed students from all nations who enjoy the benefits of a broad curriculum on an extensive campus with excellent academic results and first-class facilities.
The Knox School is relatively small compared to other schools, however, this small sized school enables us to get to know your child personally as they take their journey through our School.
We pride ourselves in our ability to prepare young people for the challenges of life in a safe, caring and clean environment. Our careers counsellor works hard to ensure our graduates achieve their first choice of university and tertiary institutions. In 2020, all international students achieved very impressive VCE results and entered into universities of their choice.
The Knox School is not only a great place of learning but also a place where students can grow and discover their individual talents and potential.
The Knox School是一所私立男女子學校,位於環境優美,綠蔭蔥蔥的墨爾本東部,距離澳大利亞第二大城市墨爾本市中心只需約30分鐘。
在過去近40年,我們歡迎來自世界各地的學生到我們寬敞的校園學習豐富的課程、享用一流的教學設備,並且取得優異的學習成績。
由於我們的學生人數較其他學校相對較少,因此我們能夠對每一位學生提供更貼身的照顧,同時亦可以更深入地了解他們所需,並為學生規劃最合適的升學之路。
我們以能夠為年輕人在一個安全、關愛的環境裏學習面對將來的生活挑戰而感到自豪。本校所開設的課程,以及專業導師的協助都以確保學生能夠獲得第一志願大學或其他高等學府取錄為首要目的。在2020年,本校國際學生取得了優秀的VCE成績,並且成功入讀了理想的大學和專業。
本校不僅是一個學習的理想地方,更是一個讓學生成長並盡情發揮所長和啟發個人潛力的地方。
參展學校 – Schools participating in the Online Fair