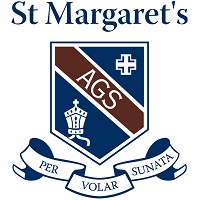 St Margaret's Anglican Girls School, Queensland
SCHOOL PROFILE 學校簡介
城市/州份
City/State:
Brisbane
Queensland
創校年份
Year established:
1895
學校類別
Coeducational/Boys/Girls:
女校
Girls
寄宿學校/家庭寄宿/兩者均有
Boarding/Homestay/Both:
學校住宿
Boarding
英語強化課程
ELICOS Program:
沒有
No
其他英語課程
Other English Language
Programs:
有
Yes
學校課程
Certificate of Education / IB:
QCE
學生人數(7年級至12年級)
Total enrolment numbers


(Years 7-12):

883
海外學生人數 (500類簽證)
Number of current
international students:
41
澳洲教育評審測驗(AEAS)
AEAS testing required:
需要
Yes
學費(每年澳幣)
Annual Tuition Fees:
7-12年级: $37,422澳幣/
每年
Yr7-12: AUD$37,422p.a.
寄宿費 (每年澳幣)
Accommodation Fees:
校內住宿費: $22,620澳幣/每年
Boarding: AUD$22,620p.a.
CRICOS 號碼
CRICOS Number:
00511K
| SCHOOL VIDEO PRESENTATION – 學校影片 | |
| --- | --- |
St Margaret's is an independent day and boarding school for girls. A leader in girls' education for 127 years, it has a long and proud boarding history with around 190 boarders living on campus.
A local school with a global outlook, the school offers global opportunities and programs. The school is well known for its focus on academic excellence, quality teaching and learning, and its commitment to personalized learning and the welfare of each individual student. St Margaret's staff are highly qualified and committed to ongoing professional development to stay at the forefront of their profession.
St Margaret's girls are highly engaged and enthusiastically embrace their learning and the many extracurricular opportunities across sport, music, the arts and clubs and activities. The school's values – Spirit, Faith, Integrity, Courage, Respect and Passion – and motto, Per Volar Sunata (Born to Fly Upwards), inspire its students to grow and achieve their personal best.
St Margaret's Anglican Girls School是一所私立的寄宿及非寄宿混合女子學校。作為127年來女子教育的領導者,學校以其歷史悠久的寄宿教育背景為傲。
現時校園約有190名寄宿學生。作為一所具備全球視野的本地學校,學校為學生們提供豐富的全球性學習機會及項目。此外,學校推崇個性化學習和關心學生的身心健康,亦以注重卓越學術和優質教學而聞名。
本校擁有優良的教職員,所有老師均注重長期的專業發展,以保持在行業中的領先地位。除專注學術外,學生對於參與一系列的課外活動亦充滿熱情,當中包括體育、音樂、藝術、學會和其他活動等。學校的理念「精神、信念、正直、勇氣、尊重和熱情」,以及校訓「生為翱翔」都能激勵學生盡展所長並健康努力地成長。
參展學校 – Schools participating in the Online Fair