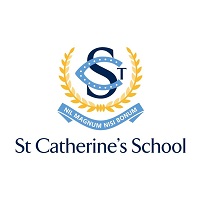 St Catherine's School, Victoria
SCHOOL PROFILE 學校簡介
城市/州份
City/State:
Melbourne
Victoria
創校年份
Year established:
1896
學校類別
Coeducational/Boys/Girls:
女校
Girls
寄宿學校/家庭寄宿/兩者均有
Boarding/Homestay/Both:
兩者均有
Both
英語強化課程
ELICOS Program:
沒有
No
其他英語課程
Other English Language
Programs:
有
Yes
學校課程
Certificate of Education / IB:
VCE
學生人數(7年級至12年級)
Total enrolment numbers


(Years 7-12):

450
海外學生人數 (500類簽證)
Number of current
international students:
55
澳洲教育評審測驗(AEAS)
AEAS testing required:
需要
學費(每年澳幣)
Annual Tuition Fees:
7-12年级: $44,720-$47,190澳幣/
每年
Yr7-12: AUD$44,720-$47,190p.a.
寄宿費 (每年澳幣)
Accommodation Fees:
校內住宿費: $31,540澳幣/每年
Boarding: AUD$31,540p.a.
CRICOS 號碼
CRICOS Number:
00574F
| SCHOOL VIDEO PRESENTATION – 學校影片 | |
| --- | --- |
At the heart of our engaged, dynamic and inclusive community, St Catherine's School nurtures young women, to be bold and creative, independent and resilient, and who are intellectually and spiritually prepared to contribute to a greater good and an enriching life both within and beyond School.
We enjoy a reputation for academic excellence, a supportive community, an outstanding co-curricular program, exceptional teachers, fine facilities and established alumnae networks and yet we believe our greatest achievement is the quality of character which students of St Catherine's exhibit.
Boarding at St Catherine's provides your daughter with a realistic view of the world, providing her wonderful opportunities for cultural and leisure activities. We talk of our Boarding House (Illawarra), a National Trust listed Victorian Mansion, as a home, because this is the atmosphere that we achieve, a place where students feel supported academically, socially and emotionally.
作為我們熱忱、富活力和包容性的社區心臟地帶,St Catherine 學校訓練年輕女性勇敢、獨立及創新,在思想上及精神上裝備自己,在未來成為有貢獻的人,豐富自己的生活。
學校在各方面都享有極高聲譽,全賴學生成績優異,互相支持的社區,出色的校內活動、卓越的師資、完善的設備及校友網絡。但我們相信學校最大的成就是St Catherine的學生所展現的良好素質。
St Catherine 的寄宿服務為您的女兒提供一個真實的世界觀, 讓她有機會學習文化及享受休閒活動。
我們的宿舍(Illawarra)為一座國民信托的一棟維多利亞式大樓,讓學生可以視之為她的家,宿舍充滿理想的氛圍,讓學生不論在學術上、社交上及情緒上都得到支援及關懷。
參展學校 – Schools participating in the Online Fair