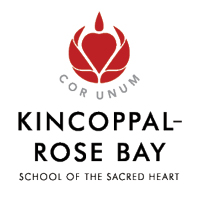 Kincoppal-Rose Bay School, New South Wales
SCHOOL PROFILE 學校簡介
城市/州份
City/State:
Sydney
New South Wales
創校年份
Year established:
1882
學校類別
Coeducational/Boys/Girls:
女校
Girls
寄宿學校/家庭寄宿/兩者均有
Boarding/Homestay/Both:
學校住宿
Boarding
英語強化課程
ELICOS Program:
沒有
No
其他英語課程
Other English Language
Programs:
有
Yes
學校課程
Certificate of Education / IB:
HSC
學生人數(7年級至12年級)
Total enrolment numbers


(Years 7-12):

560
海外學生人數 (500類簽證)
Number of current
international students:
9
澳洲教育評審測驗(AEAS)
AEAS testing required:
需要
Yes
學費(每年澳幣)
Annual Tuition Fees:
7-12年级: $44,040-$48,972澳幣/每年
Yr7-12: AUD$44,040-$48,972p.a.
寄宿費 (每年澳幣)
Accommodation Fees:
校內住宿費: $31,512澳幣/
每年
Boarding: AUD$31,512p.a.
CRICOS 號碼
CRICOS Number:
02268M
| SCHOOL VIDEO PRESENTATION – 學校影片 | |
| --- | --- |
Located on magnificent Sydney Harbour, Kincoppal-Rose Bay School is a leading independent school In Australia.
Kincoppal-Rose Bay boarding features a safe and secure environment; modern bedrooms and facilities; homework and study centre with teacher and tutor assistance; weekend activities; separate Year 12 boarding house. Excellent academic results and university entry are achieved by students.
This Catholic school is part of a global network of 150 Sacred Heart schools in 45 countries. Sacred Heart education focuses on the development of the whole person – both heart and mind. It is well known worldwide for an academically rigorous program of education, extensive curricular and co-curricular opportunities and a strong technology base.
The school celebrates the richness of its community that comprises many nationalities, races and religions, who together share the same ethos. Kincoppal-Rose Bay is a school with a strong spirit, committed to developing in their students a life-long love of learning.
參展學校 – Schools participating in the Online Fair