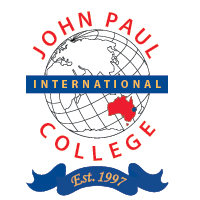 John Paul International College, Queensland
SCHOOL PROFILE – 學校簡介
城市/州份
City/State:
Brisbane
Queensland
創校年份
Year established:
1982
學校類別
Coeducational/Boys/Girls:
男女校
Coeducational
寄宿學校/家庭寄宿/兩者均有
Boarding/Homestay/Both:
學校住宿
Boarding
英語強化課程
ELICOS Program:
有
Yes
其他英語課程
Other English Language
Programs:
有
Yes
學校課程
Certificate of Education / IB:
QCE
學生人數(7年級至12年級)
Total enrolment numbers


(Years 7-12):

950
海外學生人數 (500類簽證)
Number of current
international students:
125
澳洲教育評審測驗(AEAS)
AEAS testing required:
需要
Yes
學費(每年澳幣)
Annual Tuition Fees:
 7-12年级: $23,400澳幣/每年
Yr7-12: AUD$23,400p.a.
寄宿費 (每年澳幣)
Accommodation Fees:
寄宿家庭費用: $17,500澳幣/每年
Homestay: AUD$17,500p.a.
校內住宿費: $19,900澳幣/每年
Boarding: AUD$19,900p.a.
CRICOS 號碼
CRICOS Number:
00500B
| SCHOOL VIDEO PRESENTATION – 學校影片 | |
| --- | --- |
John Paul College was established in 1982 and has been providing Primary and Secondary School education for overseas students since 1984. The College's sports, performing arts and campus technology are among the best in Australian schools.
John Paul International College was established in 1997 to provide overseas students with Primary School preparation and High School preparation courses, and to provide students with additional language and learning ability support for future High School studies.
John Paul International College also provides Study Tours for overseas students, so that students can experience the Australian way of life and learning before enrolling.
John Paul International College is proud to be the first school in Australia to have its High School Preparation Course NEAS Premium Endorsed for quality.
School highlights:
7 day/24 hour International Student Helpline
Academic Excellence
Career counselling services, including subject selection and university selection
Dedicated International Student Services Centre with Chinese speaking staff
Safe and comfortable accommodation, including host family and school boarding
1800 students, 12% international students
100% of international students continue to study higher education after graduating from High School
20% of Grade 12 students achieved the top 10% of Queensland in the University Admission Test (ATAR)
Queensland Private School Sports League first place
Renowned Performing Arts program
約翰保羅學校於1982年建校,並從1984年以來一直為海外學生提供小學和高中教育。學校的體育運動,表演藝術和校園技術在澳洲學校中名列前茅。
學校並於1997年成立國際學校部門專門為來自海外的學生提供小學預備課程和高中預備課程,並為學生未來的高中學習提供額外語言和學習能力的支持。
約翰保羅國際學校並為海外學生提供遊學團,這以便學生在註冊之前提前體會澳洲的生活和學習方式。
約翰保羅國際學校為成為澳洲第一所獲得NEAS優質認可的學校感到自豪。
學校亮點:
7天/24小時國際學生支援熱線
優秀的教育方式
升學職業諮詢服務,包括科目和大學選擇
學校設有國際學生服務中心,設有華語的工作人員
安全和舒適的住宿環境,包括寄住家庭和學校寄宿
1800名在校學生,12%為國際學生
100%的國際學生高中畢業後繼續就讀高等教育
20%的12年級學生在大學入學考試(ATAR)中取得昆士蘭省前10%的成績
昆士蘭私校體育聯盟成績第一名
享譽盛名的表演藝術課程
參展學校 – Schools participating in the Online Fair