澳洲中小學網上展
Australian Day & Boarding Schools Online Open Day
3月13日 (六), 上午10時 – 下午4時
Join us on Saturday 13 March 2021 between 10.00am and 4.00pm to meet with representatives from Australia's best private schools
網上及各協辦機構辦公室同步進行!
Online and in the offices of our co-organising partners!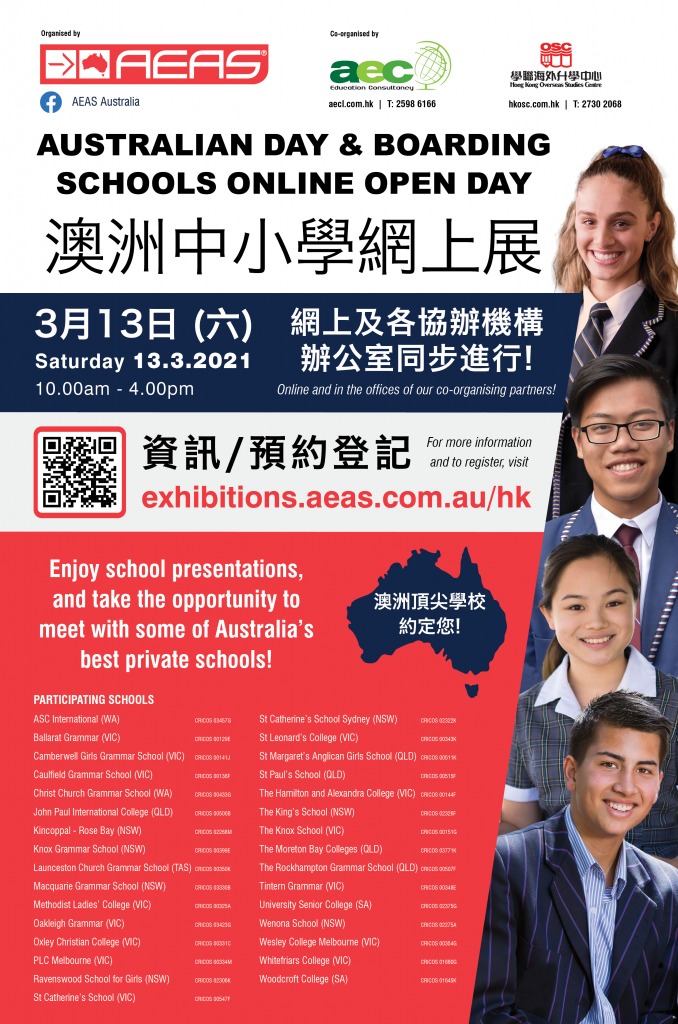 登記預約3部曲! - Three simple steps!
澳洲頂尖學校約定您!
Australia's top schools are waiting to meet with you!
View live school presentations on event day!
於2021年澳洲中小學網上展時, 各參展院校將即場親自為大家作講解!
各位家長和同學可藉此機會進一步了解每一間學校的特色、課程、收生要求、申請程序等資訊,更可即時向院校代表發問問題。
此外,我們亦歡迎大家與個別學校預約會面,屆時院校代表可即場對學生的成績作出評估,亦有機會即場得悉結果。
As part of our 2021 Online Open Day, participating schools will also give a live presentation on event day!
The presentations will be a great opportunity to hear from each school about their unique offering, and also to ask any questions you may have.
You can then book an individual appointment with each school to discuss your child's specific requirements.
協辦機構 - Supporting Education Agents
二所本地升學中心提供支援服務
Two of Hong Kong's top education agents are available to support you
升學中心於網上教育展期間同步開放, 為有需要的家庭提供協助, 請致電或電郵個別升學中心預約。
Their offices will be open for face to face visits on event day, and they are also available by phone and email to assist you.
參展學校 - Participating Schools
點擊學校之校徽/校名, 獲取參展學校的簡介
Click on the school logos to view a full profile, and a video presentation.
學校面談期間有專人提供即時傳譯服務
Interpreters will be available to support your meetings with Australian schools.