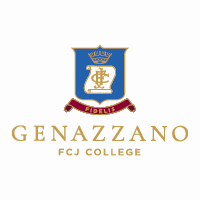 Genazzano FCJ College, Victoria
SCHOOL PROFILE – 學校簡介
城市/州份
City/State:
Melbourne
Victoria
創校年份
Year established:
1889
學校類別
Coeducational/Boys/Girls:
女校
Girls
寄宿學校/家庭寄宿/兩者均有
Boarding/Homestay/Both:
學校住宿
Boarding
英語強化課程
ELICOS Program:
沒有
No
其他英語課程
Other English Language
Programs:
沒有
No
學校課程
Certificate of Education / IB:
VCE
學生人數(7年級至12年級)
Total enrolment numbers


(Years 7-12):

711
海外學生人數 (500類簽證)
Number of current
international students:
25
澳洲教育評審測驗(AEAS)
AEAS testing required:
需要
Yes
學費(每年澳幣)
Annual Tuition Fees:
K-12年级: $36,370-$39,695澳幣/
每年
Prep-12: AUD$36,370-$39695.
寄宿費 (每年澳幣)
Accommodation Fees:
校內住宿費: $29,210澳幣/每年
Boarding: AUD$29,210p.a.
CRICOS 號碼
CRICOS Number:
03298G
| SCHOOL VIDEO PRESENTATION – 學校影片 | |
| --- | --- |
Genazzano FCJ College is a Catholic Day and Boarding School in Kew offering a co-educational Early Learning Centre and all-girls' environment from Prep to Year 12.
An inclusive community, we celebrate diversity and deliver a balanced approach to learning and growth. Our ability to innovate and adapt to a changing world allows students to grow academically and personally.
In partnership with parents and carers, we work to create a learning environment enriched by the traditions of our Catholic faith and Charism of the Sisters, Faithful Companions of Jesus informed by Ignatian spirituality.
Our all-girls' environment from Prep to Year 12 encourages each student to take intellectual risks and focus on achieving personal success across a wide range of subjects and co-curricular pursuits. Our learning approaches are based on cross disciplinary, student centred thinking and a commitment to excellence.
Genazzano FCJ 學院是一所位於 Kew 社區的天主教全日制和寄宿學校,包括男女同校的早期教育中心以及從學前班到12年級的全女校中小學。
作為一個包容開放的社區,我們崇尚多元文化,讓學生們在學習和成長兩方面平衡發展。我們積極開拓創新,協助學生同時在學術和個人發展方面不斷進步,適應世界變化。
我們與家長和監護人合作,努力營造出相容並蓄的學習環境,納入天主教信仰傳統和聖靈恩賜修女會傳承。在天主教敘事體系中,修女乃是耶穌的忠實信徒,伊格納提靈修為她們帶來智慧與力量。
從學前班到12年級,我們提供全女校中小學,鼓勵每個學生積極探索智慧與知識的邊界,並專注在廣泛的科目和課外活動中追求個人成功。我們所宣導的學習方法以跨學科聯繫、以學生為中心的思維,以及追求卓越的承諾為基礎。
參展學校 – Schools participating in the Online Fair