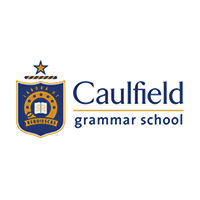 Caulfield Grammar School, Victoria
SCHOOL PROFILE 學校簡介
城市/州份
City/State:
Melbourne
Victoria
創校年份
Year established:
1881
學校類別
Coeducational/Boys/Girls:
男女校
Coeducational
寄宿學校/家庭寄宿/兩者均有
Boarding/Homestay/Both:
兩者均有
Both
英語強化課程
ELICOS Program:
沒有
No
其他英語課程
Other English Language
Programs:
沒有
No
學校課程
Certificate of Education / IB:
VCE
學生人數(7年級至12年級)
Total enrolment numbers


(Years 7-12):

2450
海外學生人數 (500類簽證)
Number of current
international students:
42
澳洲教育評審測驗(AEAS)
AEAS testing required:
需要
Yes
學費(每年澳幣)
Annual Tuition Fees:
7-12年级: $42,990-$47,172澳幣/
每年
Yr7-12: AUD$42,990-$47,172p.a.
寄宿費 (每年澳幣)
Accommodation Fees:
寄宿家庭費用: $365澳幣/每週
Homestay: AUD$365 per week
校內住宿費: $30,560澳幣/每年
Boarding: AUD$30,560p.a.
CRICOS 號碼
CRICOS Number:
00136F
| SCHOOL VIDEO PRESENTATION – 學校影片 | |
| --- | --- |
Established in 1881, Caulfield Grammar School is a leading independent co-educational school for day students and boarders in Melbourne, Australia.
We proudly offer a thriving learning environment that supports students to feel empowered, deeply engaged, and encouraged to become people of character and contribution. With a passionate vision for innovation in education, we offer a globally-focussed curriculum that prepares students with skills for life.
Caulfield Grammar's academic outcomes stand as a testament to our teaching philosophy and learning practice. Our progressive and broad curriculum is established on current and emerging theories and innovative practice – from Early Learning to Yr 12 for day students. We value inclusion and are a non-select entry school.
Committed to providing international students with access to our innovative learning programs, the Caulfield Campus boarding house provides modern accommodation and facilities for students from Yr 9.
考爾菲爾德文法學校(Caulfield Grammar School) 成立於1881年,是澳洲墨爾本一所領先的私立男女校,招收日校生及寄宿生。
學校提供朝氣勃勃的學習環境予學生,讓學生感到自信並高度投入,並鼓勵學生成為有個性及對社會作出貢獻的人。 憑藉對教育創新的熱情,學校的課程放眼全球,以培養學生的終身受用的技能。
考爾菲爾德文法學校取得的學術成果是教學理念和學習實踐的證明。 學校漸進又廣寬的學前教育至12年級日校課程,全建基於新興理論和創新實踐基礎。學校重視包容性,屬於非選擇性的私立精英學校。
考爾菲爾德學校寄宿部致力為國際學生提供創新學習計劃,為9年級及以上學生提供現代化的住宿和設施。
參展學校 – Schools participating in the Online Fair