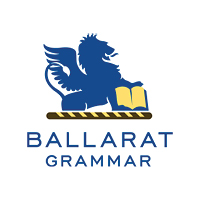 Ballarat Grammar, Victoria
SCHOOL PROFILE 學校簡介
城市/州份
City/State:
Ballarat
Victoria
創校年份
Year established:
1877
學校類別
Coeducational/Boys/Girls:
男女校
Coeducational
寄宿學校/家庭寄宿/兩者均有
Boarding/Homestay/Both:
學校住宿
Boarding
英語強化課程
ELICOS Program:
沒有
No
其他英語課程
Other English Language
Programs:
沒有
No
學校課程
Certificate of Education / IB:
VCE
學生人數(7年級至12年級)
Total enrolment numbers


(Years 7-12):

1500
海外學生人數 (500類簽證)
Number of current
international students:
5
澳洲教育評審測驗(AEAS)
AEAS testing required:
需要
Yes
學費(每年澳幣)
Annual Tuition Fees:
7-12年级: $32,160-$39,420澳幣/每年
Yr7-12: AUD$32,160-$39,420p.a.
寄宿費 (每年澳幣)
Accommodation Fees:
7-9年级: $10,040-$19,000澳幣/每年
Yr7-12: AUD$10,040-$19,000p.a.
CRICOS 號碼
CRICOS Number:
00129E
| SCHOOL VIDEO PRESENTATION – 學校影片 | |
| --- | --- |
Situated in the historic regional town of Ballarat, 1.5 hours from Melbourne, Ballarat Grammar offers a unique opportunity for students to learn in a clean, green and safe environment.
With 1500 students on the co-curricular campuses, aged from 6 months to 18 years old, the School is able to offer a wide-ranging academic curriculum and large variety of extra-curricular pursuits.
The School emphasises a holistic approach to learning, involving students in a number of community service and leadership activities, along with extensive programs and facilities offered in art & design, dance, drama, music, sport and outdoor education. This variety in learning and development assists the students in their growth into good young people and is also integral in successfully applying to select-entry university courses.
International students join local students in one of the 5 on-campus boarding houses and receive dedicated pastoral support and are offered after-hours ESL classes with specialist teaching staff.
學校坐落於擁有歷史悠久的城市— 巴拉瑞特 (Ballarat) ,距離墨爾本約1.5小時車程。 巴拉瑞特文法學校(Ballarat Grammar School) 為學生提供一個整潔、綠化並安全的學習環境。
現時約有1500在校生,年齡由六個月至十八歲。
學校提供多元化學術課程,以及各種各樣的課外活動。學校注重學生的整體發展,鼓勵學生多參與社區服務及有助提升個人領導能力的活動。學校備有多元化的設施,為學生在藝術設計、舞蹈、戲劇、音樂、運動及戶外教育中提供多樣的選擇項目。多元化的學習及發展能協助學生成長為優秀的年輕人,是讓學生成功選擇自己心儀大學課程的重要一環。
國際學生將會與當地學生一同於校園內5所宿舍生活,學校也有專員照顧學生的身心健康及提供各方面的支援,同時設有專門的老師於課後提供英語輔導 (ESL) 課程予有需要學生。
參展學校 – Schools participating in the Online Fair